Graphic Design Alone is a Waste of Money
Many Organizations With Nice Graphics Have Failed
It is certainly true that a professional graphic design artist will let everyone know you take your business seriously. You will benefit from an artist who can create visual dynamics that get you noticed in a competitive world. You will profit from a business logo that people can quickly identify you with. Quality graphic design will set you apart from your competition.
But there is far more to it though if you want to transform your graphic design into a profitable piece of marketing material.
Here is a strange truth. An average graphic design with good marketing and communication will out perform even the most beautiful picture if the message is weak. Think about that for a moment. It can save you from a lot of wasted money if you understand this principle. You can sell successfully using stick figures if you do it creatively.
Are you sold by just nice graphics? Of course not. The graphic design should grab your attention, but it usually takes more than that to persuade you. The same is true for your customers. The same is true for your supporters if you are promoting an idea or a non-profit organization. The same is true for your employees if you are trying to meet goals.
That is what makes us different from many other graphic design places; we go further than providing just eye appeal. Graphic design usually requires great writing and marketing to reach its full potential. Contact us when you want to experience the benefits that graphic design alone cannot provide.
As a graphic designer, I offer you something far beyond creating a professional look for your printed materials, your web site, or your multi-media materials. I will pack in the content that will justify the cost of producing these materials by making them perform for you. When that happens, we both win. You win because you will have more profit, more sales, more money. I win because you will never again consider going to another graphic designer who can provide no more service than a good clip art resource.
Graphic Design for YOUR Real World
Created With Experience From THE Real World
The following is our belief, approach, goal, and mini mission statement for graphic design services:
Although we use computers, we believe talent is still needed. Our graphic designers are real artists. We design to meet your needs and goals. We design for real world processes so you don't waste money having it "fixed" by production artists.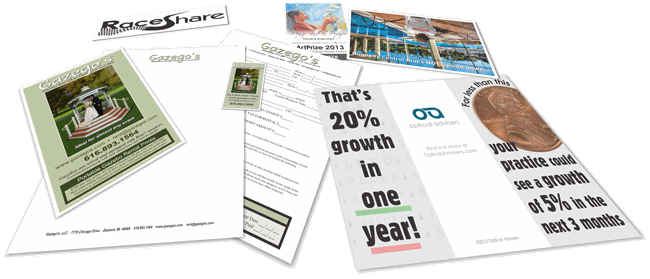 As the owner, I provide you with advantages that far exceed being strictly a graphic designer. My business experience means that I understand your needs as only a business person could. I started my first company in 1986, but more importantly, I'll help you keep up with changes in the modern business climate.
With over 35 years of graphic design and production, more than 15 years of web design, plus the writing, sales, and marketing, that certainly gives me THE real world experience, but applying it to what will work for YOU is what counts.
I hope you will contact us to discover how we can use graphic design to your advantage. It can not only make you look good, but go further by serving as a tool to help your business grow stronger.
Get More From A Graphic Designer
The Graphic Design of the Past Will Kill Your Future --
Insights From the Owner of Creative Business Services
As computers began to permeate the graphic design industry, I embraced them for their ability to make artists more productive. They opened exciting new possibilities for creative freedom, control, accuracy, and the speed at which a graphic design artist could excel in their craft. This brought more value to our clients like you because with computer graphic design, you could get more without having to pay more.
Then I watched in horror as computer graphics also made it possible for the "anyone can be an artist now" mentality to set in. Visual pollution was sold in large volumes at wholesale prices with the advent of instant sign shops and desktop publishing. More recently, computer graphics technology has become so affordable that an off-the-shelf computer can usually create the same ugliness without any outside help.
Now that the brief history lesson in graphic design is over, I want you to realize something. The days of natural artistic talent being useful in the graphic design industry are not over, but talent is not enough. Anyone can buy graphic design software and give you a great deal on something that will not help you. We go beyond just having the right tools, we use them in creative ways to make our service worthwhile.
Next time you listen to the ramblings of a genuinely talented graphic artist, ask yourself these questions: Do they understand that the past is over? Do they understand that people do not get all the hidden messages and subtle nuances just by looking at their masterful artwork? Should they be selling graphic design, or fine art?
Real World Graphic Design Experience
We Don't Isolate Ourselves Just To Be Creative
As the owner, I look for graphic design people who have something more than just talent. As a graphic designer myself, I have found my production experience to be a valuable asset. It benefits my clients far beyond any kind of textbook knowledge taught in school. I labor to preserve that advantage so we will be your exclusive source for graphic design services.
All too often, the graphic design people are isolated in the back corner so they can just be creative. Not only does this eliminate hands on experience with the processes they are supposed to be designing for, it minimizes interaction with real people so they can understand who they are designing for.
Ask someone who runs a printing press or a sign shop about the usability of most of the artwork they receive, even when it comes from a "professional graphic designer" and they will testify of their frustration. This causes unnecessary rework and expense for you. You will never have this problem with Creative Business Services.
When I review a graphic design, I am also seeing it through years of experience in meeting real people out in the sales field, people from all walks of life. No one likes canned sales talk, so graphic design and sales messages must speak to them, not try to manipulate them. Since there are very few graphic designers with real selling experience, mine will serve you with a definite advantage.
When considering how we can help you, there is something we already know about your situation. Most of your competitors all say about the same thing to promote themselves. Tell us about yourself and we will help you be more creative so you can get better results.
See the Graphic Design Portfolio
May take several seconds to load depending on your connection speed
Graphic Design

Selling Experience Without Hype
You Won't See That Combination Very Often
Let's face it, there is textbook knowledge, and there is experience. Oh, lucky me; I have both. In the graphic design field, I also have experience that no other graphic designer can get when they are tossed back into an isolated corner of the office to do their thing (Have you ever noticed that's usually where the graphic designer is?).
My experience gives me a competitive edge that cannot be gained any other way, except the way I got it. This competitive edge allows me to offer you value-based graphic design you cannot get from someone who does not have the same experience. I would not be doing you a favor by being modest about my abilities, because you need graphic design that performs in order to avoid wasting your money.
The experience I am referring to is selling; real world, "down in the trenches" selling. To some, selling is a dirty word. But without selling, businesses would be broke. Fortunately, I read some good books from people who knew what they were talking about. I am not referring to manipulating people, fast talking, high pressure, and hype.
Those who sell like a stereotype used car salesman, and those who advocate selling that way, fail to understand something. People are smarter than they think. No one likes sales talk or canned responses. If you are trying to sell using worn out jargon in promotional materials, printed literature, a web site, or even face-to-face, you will have disappointing results.
What you have learned so far will spoil the party for a graphic designer who only wants to dazzle you with cool artwork and feed your ego with graphic designs that will impress all of your friends and family. You should expect that I will provide considerably more than what graphic design alone can do for you. An agency with many staff members might be able to do this too, but then you risk a breakdown in communication as your graphic design project flows through several channels.
This outline of my skills would not be complete without the following bulleted list to wow you with my credentials:
Over 20 years experience in graphic design and marketing


First hand experience with the production end of graphic design


Have successfully shared graphic design files over the Internet for thousands of production jobs because of this experience


Planning for all possible uses of a graphic design concept, like a flyer or brochure, sign, coffee mug, T-shirt, or thousands of other uses


Knowledge of production methods helps keep you within budget


Graphic designs that do not require expensive rework when submitted for different uses


Help with avoiding mistakes that make graphic designs impractical, e.g. hot pink on a bumper sticker that fades to ugly in only a few months


Thorough understanding of the Internet and the principles of good web site design


If you would like to see a few samples of my previous graphic design work, visit my graphic design portfolio. A word of warning; due to the size of image files, that page might take a little time to fully load if you are using a dial up connection. Any number of things could determine exactly how long, but it should be well under a minute.
Hey, that's a long time. Studies show the attention span for most Internet users is under 30 seconds!
Right now, you are probably wondering how much of a difference my graphic design services can make for you. You should have high expectations. That way, when I exceed your expectations, I can make a life long friend out of you. Contact me right now, this is a great time to get started. You can email me, or use the feedback form for the most convenience. My Contact Information page has all the available options you could ever need.
Creative Business Services, located in Grand Rapids, Michigan (Grand Rapids, MI), provides graphic design service for almost any visual communication project. This graphic design service includes promotional materials such as a flyer, brochure, catalog, information pack, business card, book cover, sign, billboard, website or web site, display ad, magazine ad, advertisement, tradeshow booth or trade show booth, banner, show card, package design, label, promotional giveaway or give-away. Because of my experience in the actual production of graphic design (hands-on experience with screen printing, computer cut vinyl, hand painted and vinyl signs, banners, vehicle graphics and file sharing over the Internet), I can save you money and downtime when I produce artwork that will be used for web graphics, for screen print design, logo design, vehicle graphic design, sign graphics and graphic design, color separated artwork for print, promotional item or promotional product, ad specialty or ad specialties, computer cut vinyl, advertisement or print ad or display ad, T-shirt, and virtually any graphic design project. This also means that I can use my graphic design skills to create a complete graphic design package for uniform marketing consistency. In other words, having the same graphic designer create the business card layout, display ad design, letterhead, website or web site, flyer, brochure, catalog, and all other marketing materials means that they will all coordinate to achieve a professional graphic design package. As an experienced writer, all the persuasive copy needed on your graphic design project is also included, this further enhances the consistency of your graphic design and marketing material.