Small Business Web Site Design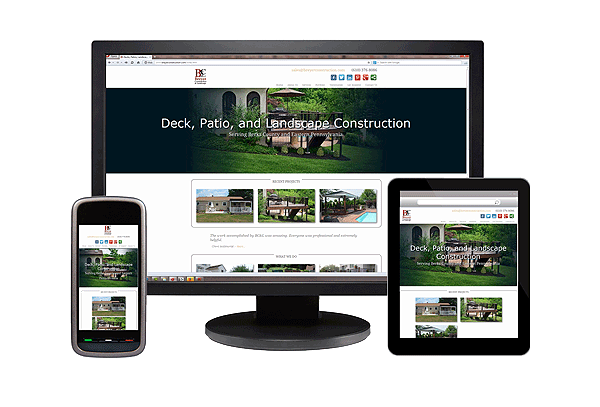 Web design — there are very few choices you have to make in business that have muddier waters than web design. Web design companies haven't made this any easier for you either. Unless you already know our reputation, I don't expect you to drop your skepticism at this point. You should be skeptical of all web designers because there is no required accountability in the industry.
See examples of our web site design…
If you've ever wondered why web design is so riddled with land mines, one reason is because of the illusion that it's easy. Anyone with a computer connected to the Internet can do web design. They can even make it look good. These days, with free tools like WordPress, having a web site design that doesn't at least look like a professional web design is inexcusable.
Great looking web design has very little to do with your success!
There are a lot of ideas about how to succeed with a web site design, but the pitfall that both web designers and web site owners often succumb to is thinking that their visitors want to be impressed with design skill. The fact is, some of the most successful web sites are rather boring to look at. Then there are many impressive looking sites, even expensive designs, that make little or no money for their owners.
Web design experts seem to agree that for most web site design, "content is king," but that presents another challenge. Some situations require a lot of detail, others don't. Reaching people effectively, with the right level and quality of content, will help determine the success or failure of your web site.
Without qualified guidance, you might believe that just having an attractive presence on the Internet is enough to serve your business needs. The concept of getting a quick fix is tempting too, especially if you can have a professional looking web site in a matter of minutes, and get it cheap. The only winners with that approach are the ones who make a quick buck if they sell you on that idea.
When you are considering your web site design, you get to exceed your normal limits. Your local economy no longer matters because the world can now be your marketplace. At a bare minimum, your web site makes it possible to expand your market beyond your local area. This could easily result in you creating more jobs when you hire extra help to meet increased demand. Internet marketing and search engines can bring people who are ready to buy right to your virtual door.
Imagine the potential when pre-qualified buyers come in willingly, then sit down for your presentation so they can be sold on your product or service, your idea, or contribute to your cause. Imagine what can happen when your market area is not limited by any geographical boundaries. Imagine a web design that performs better than you expected.
When you decide that you want Creative Business Services to design your web site, you are getting a web designer who understands there is a greater purpose for having a web site. Most of the time, your web site design must generate profit. If it were not for this simple fact, almost anyone could provide your web site design services.
As a web designer, I am more interested in developing solid content that achieves your goals. I do pay very careful attention to graphic design because I was a graphic designer long before I was a web designer. It is very important that your web site has a professional look, and it will. The quality of your web content and proven methods of delivery will determine the level of success your web site achieves. The content quality you need though is not something every web designer has a history of providing.
Why We Don't Run With the Herd
Your primary question or concern is what advantages we offer you that you'll be hard pressed to find somewhere else. There are several differences, but to avoid boring you with all of them, let's highlight the ones that matter most:
Content development is included - Very seldom do we see clients who have their web site content all mapped out and ready to go. Yet most web design providers leave you to fend for yourself on content. Considering the fact that content determines the success or failure of your site, it is a huge advantage that we automatically help you with content unless you come to us all prepared for that in advance.
Emphasis on your marketing goals - You would think this would be automatic if someone is providing web design. Sadly, it's very rare. Well, sort of sadly anyway, it gives us the opportunity to offer an advantage you won't find with very many web designers.
Planning and purpose - This one closely accompanies the marketing emphasis. During the discovery process where we gather information to determine your marketing and goals (and/or acquire them from you), that information doubles as a means to determine the goals and purpose and plan accordingly. If this sounds so logical that all web sites should be done this way, we agree. But you usually only find this level of service with agencies.
Custom design or WordPress - I've been doing custom web design since starting this company. Though there are many good reasons to use WordPress, it's not the solution for evey situation. You'll be provided with the best solution to your needs. Also, using WordPress does not limit you to a "cookie cutter" web site. With our skill, you can get a WordPress site that is uniquely customized.
Every site we create is search engine friendly - Again, this should be a given, but a very small percentage of web designers understand search engines. Worse yet, most web design is unusable if you later approach a search engine optimization (SEO) specialist. Since we provide stand alone SEO, we know that it's usually easier to start over than fix a poorly designed web site.
After "shopping" around to see what was available for smaller businesses, I was extremely frustrated by the lack of originality and "canned" choices that were shown as package deals for what seemed like enormous prices. Creative Business Services gave us something better...a creative solution to our needs.
Client testimonial --
H&L Advantage
For those with a thirst for further insight, there's additional information about these topics and more under our Web Design Information section listed in the navigation menu.
We are not the only web design provider that will give you the advantages you should be getting, only one of the few. At a minimum, you should use the principles here as a standard to hold your designer of choice to. One thing that all good web designers have in common is: we would rather you choose another worthy service provider than get taken by those who give the industry a black eye.
Since you're here, it must mean you're considering a web site or getting help with one that has left you disappointed. Be sure to request a proposal so you can discover we don't just throw out numbers without knowing how we're going to meet your needs. No, we don't hound you or apply any pressure, but anyone who prices web design by the pound is going to leave you holding an empty money bag.