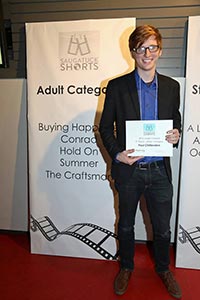 When your project involves video, Paul is the person you will be pleased to be working with. He not only brings his own impressive credentials into the mix, he is well connected with a vast network of other gifted media people.
Some of those credentials mentioned are worth listing:
Earned Eagle Scout, the highest achievement in the Boy Scouts of America attained by less than 3% of all Scouts
Bachelor's of Business Administration with Highest Honors from Davenport University in Grand Rapids, Michigan
Award winning short film productions
Worked on set for feature films
Several corporate and non profit video productions
Wedding videography
Not surprisingly, with an entrepreneur for a dad and his leadership skills, Paul started his own media company which is an ideal collaboration when you're working with Creative Business Services. You have the creative resources of two studios in one working to showcase your business to the world.
Paul on location with actor Dean Cain during the filming of Trafficked: A Parent's Worst Nightmare
Contact us for any kind of media. We'll make your vision a reality, or, create the vision then bring it to reality.